A podcast designed for firefighters to learn emotional awareness, engagement, expression, and regulation which have been empirically proven to build resilience to the impact of critical incidents. Engagingly presented by Dr. Lea Sullivan, a Licensed Mental Health Counselor and Fire Chaplain who is culturally competent in fire service and well versed in the mental health strengths and struggles of firefighters.
Episodes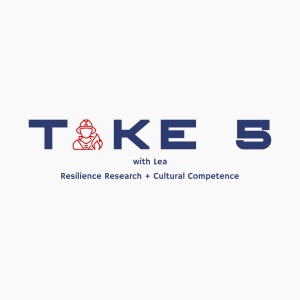 Thursday May 04, 2023
Thursday May 04, 2023
Our assumptions of others influence the outcome with them. Research takes it farther and suggests that our assumptions of others is closely correlated with how we experience ourselves. In today's episode, we'll take a look at some popular research studies conducted by Brené Brown and her colleagues. As always, we will learn how the science increases our resilience.
References for research cited in today's episode can be found at Take5withLea.com